12. The Fireworks Warehouse

While driving out to Portland, Brit and I stopped at a heavily advertised fireworks store called
Pyro
City in Wyoming. We wanted to see what it was like, but quickly left when we realized that someone breathing too hard would probably cause a nuclear explosion.
11. Moving to Portland
Upon moving into Brit's house, I quickly learned that we lived next to a cool bridge, and between a police station and a wrestling ring. You can hear the matches on Friday evenings, and people have been arrested in front of our house.
10. The Night Ride
Brit and I entered a 15 mile night bike ride which required costumes and bike headlights and tail lights. Shortly after getting in a fender-bender and mending our bikes (which had been on the back of the car), we arrived in full Hawaiian regalia and rode with a huge pack of 2,000 riders through Portland, all similarly decked out in lights in costumes. Seeing all the lights flicker was like looking at Christmas light displays.
9. Snow in July
We decided to go for a hike up Larch Mountain on July 5
th
. The hike has a cool lookout with views of Mt. St. Helen's, Mt. Rainier, Mt. Adams, Mt. Hood, and Mt. Jefferson. Unfortunately, when we got to the
trailhead
, the whole area was covered with snow and fog. We were terribly
underdressed
, expecting hot weather in July. We took a few quick pictures of where the mountains supposedly were, and got the hell out to warmer weather.
8. Wildfires
As my mom and I were driving back across the country, we ended up driving through a wildfire in Wyoming. Firemen escorted us through the smoldering area, and everything was covered in ash and smoke. Firefighters guarded the road to stop the fire from crossing it, and tents and trucks covered a huge parking lot that served as a temporary
basecamp
for all the people working.
7. Masada, Israel
In Israel, we woke up at 3am and boarded the bus to drive to Masada, the Jewish fortress, and hike the mountain in time to see the sunrise. After several mishaps, we left very late and scrambled (well, literally ran) up the steep stairs to get to the top just as the sun started to come up over the desert.
6. Wall Drug
Wall Drug is a giant mall/tourist trap/drug store in Wall, South Dakota, which advertises for hundreds of miles in every direction. Because
Sturgis
motorcycle
rally was only several miles away, the place was crawling with bikers and shirts depicting the rally. It's so overly hyped up that apparently there are signs in Afghanistan and the South Pole indicating how many miles you are from the store. It has strange oddities and
paraphernalia
, including a six-foot
jackalope
(jackrabbit/antelope mixed breed) that I got to ride.
5. Team USA Rugby Game
Brit surprised me by taking me to an NA4 (North America 4) game between the two USA teams, the Hawks and the Falcons. Highlights included a man's shirt being mostly torn off, a player who
leaped
OVER a ruck (like, through the air), and getting free
Frisbees
, shirts, and bags.
4. Prom Dress Scrimmage
This is always a blast at the end of the semester.
Despite
breaking my thumb in the game, I had an awesome time running around with everyone in ridiculous dresses from the salvation army, getting covered in mud, and tearing them to shreds. Hey, we also made it into the alumni magazine. Check out the
slide show
here
- click the link on the right side.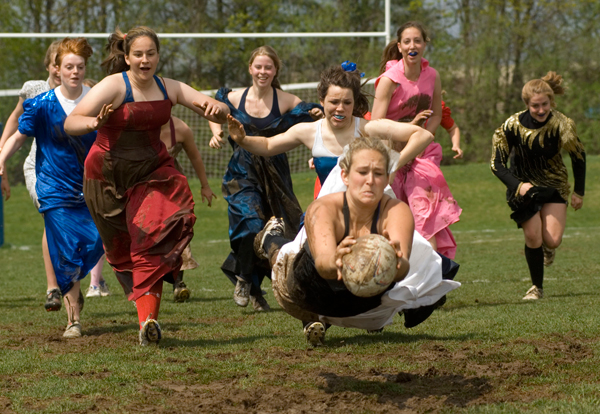 3.

HamTrek
Well, I have to toot my own horn a bit and mention the fact that I did a triathlon at the end of school. I'd like to say that I flew through it and it was a breeze, but I felt like I was going to vomit/die at the end. I got the cast on my hand the day before the race (it was waterproof so I could swim with it), but I can't blame too much of my exhaustion on it - I just wasn't in the best of shape. While I didn't get the best time, I was really excited just to be able to finish the race.

2.

Chaka

Kahn
So maybe this
shouldn't
be number two…but I think it probably makes for the best story. As I was flying from Portland to Syracuse for my cousin's wedding,
Chaka
Kahn
and her band got onto the plane with me at my layover in Chicago. They had apparently played the night before for 50,000 (I was sitting next to one of the band members on the plane, and he mentioned it). She was sitting a few rows behind me and playing in Syracuse that night. Everyone chatted about her for the whole flight.
1. Adirondack Adventure
Always amazing. Crazy games, getting to romp through the woods for five days, and playing in canoes and kayaks. The kids are great, you get to be filthy without being judged, and we saw loons, frogs, bald eagles and leeches. Yum.